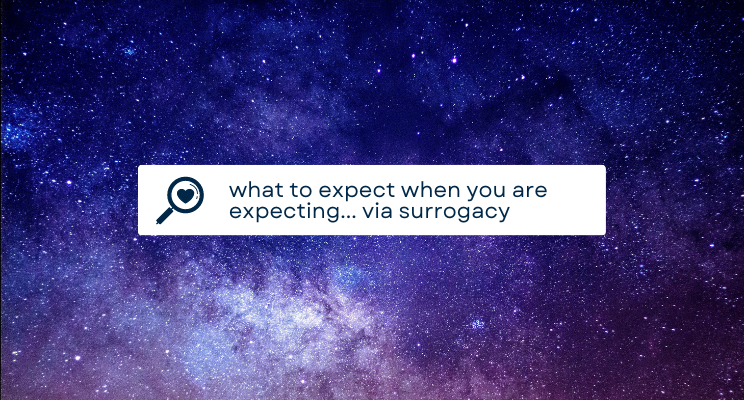 For intended parents (IPs), the beginning of the surrogacy journey can be both exciting and overwhelming. There is so much to look forward to but also many facets of the process to navigate. IPs naturally have many questions, and our goal as an agency is to provide you with education and guidance so that you know what to expect at each step along the journey. A great place to start is the Frequently Asked Questions (FAQs) section on our website and our step-by-step guide outlining the surrogacy process. Below we address some of the more in-depth and personal questions we receive from IPs.
How long does it take to match with a surrogate? This depends on several factors, including any specific criteria you have and whether this will be your first child or if you are expanding your family. We tell IPs that, on average, it takes six to nine months to match with a surrogate. For some IPs, the match process is much quicker, and for others it may take a little longer.
We understand that you are likely anxious to get matched and start your journey, but it's important that we are up front and help manage expectations from the start. The match process should not be rushed. It's important that you are matched with the right surrogate – one with whom you feel comfortable and are excited to share the journey with. After all, you are choosing the person who will help you create your family. We frequently feature IPs on our blog and social media platforms to share their stories with our surrogate community, which often results in a quicker match time. If you are interested in sharing your story, please contact Barette Best at Barette@CreateAHappyFamily.com.
How can we be involved in the pregnancy? IPs often share with us that the hardest part about surrogacy is the loss of control they feel in not being able to carry a baby themselves or not being able to support their partner through a pregnancy. The good news is that there are many ways for IPs to feel connected to the pregnancy. You can attend OB appointments with your surrogate to listen to your baby's heartbeat and see the sonograms. You can record messages for your baby or record yourself reading a book to your baby, and your surrogate can play the recordings using BellyBuds speakers so that your baby gets to know your voice. Some IPs even make a lullaby playlist for their babies. Later in the pregnancy, you can ask your surrogate to take videos of the baby moving and send them to you.
Deciding how involved you want to be in the pregnancy is a personal decision. It's something we encourage IPs and surrogates to discuss at the beginning of the journey to ensure that everyone is on the same page. Most surrogates welcome the IPs involvement and want to do whatever they can to help IPs feel connected to the pregnancy. Please know that your desires and comfort level will be respected, and we are always here to advocate on your behalf.
What happens on delivery day? Delivery day is the day you've been waiting for when you finally get to meet your long-awaited little one! Throughout your journey, our team at Surrogate Solutions will be working behind the scenes to coordinate with your surrogate's physician and the hospital staff to help ensure that everything runs smoothly on delivery day. This includes arranging a hospital tour for you and your surrogate, sending the legal paperwork to the hospital, connecting with labor and delivery at the hospital to confirm that the medical staff understands the special considerations required for a surrogate delivery, and facilitating discussions about the birth plan. While certainly not a requirement, bringing treats or a gift basket with hair ties, pens, lotion, etc. for the nursing staff on delivery day can go a long way to making the nurses feel appreciated (and they will probably take extra special care of you and your surrogate as a result!).
Most IPs are present at the delivery, and you can choose to be with your surrogate throughout her labor. You will be assigned your own room at the hospital, so that once the baby is born, you can have time alone as a family to bond. Please see our recent blog post – "Questions IPs Have About Delivery Day" – for more information about what to expect and how to plan accordingly.
Should I get a gift for my surrogate? Again, while not required at all, IPs often want to show their appreciation for their surrogate by getting her a gift. Gifts can be practical (housekeeping services, meal deliveries or gift cards), pampering (a massage, mani/pedi or gift basket with cozy items) or keepsakes (photo session or jewelry). You can find more ideas here. Any gift you give your surrogate will be greatly appreciated!
Our team at Surrogate Solutions is honored to support you throughout your journey to parenthood. We're here to answer any and all questions! Please reach out anytime at Info@CreateAHappyFamily.com.

We help Intended Parents Create Happy Families via Egg Donation & Surrogacy  with
the help of caring Egg Donors & Surrogates. 
Learn More, Surrogacy Costs, Why to use an agency,  How we are different,
Finding the right carrier, Getting Started