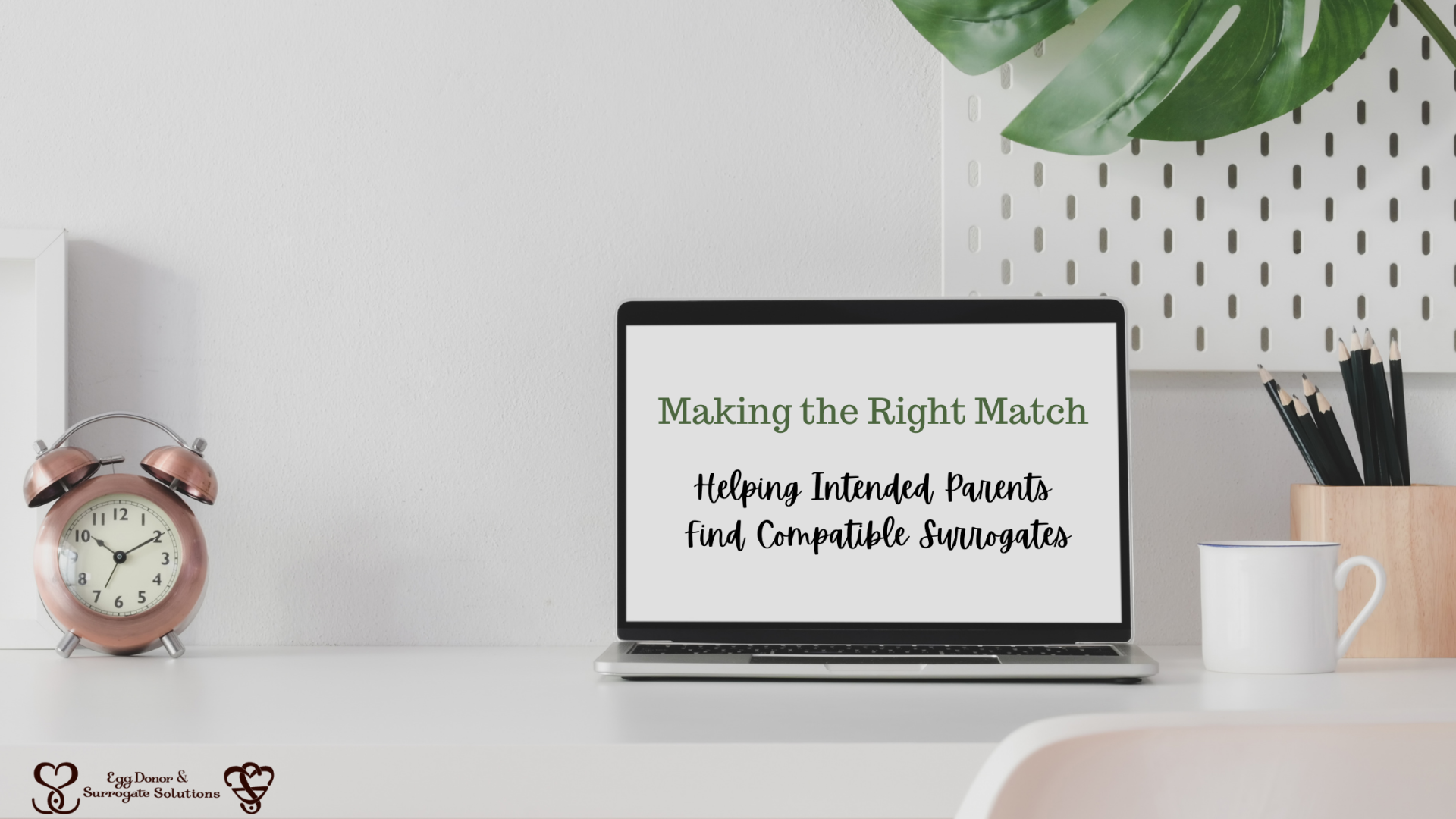 Written By: Hillary Redwine
How do you find the right surrogate to help you create your happy family? There are many factors to consider. What kind of relationship do you want with your surrogate? How frequently do you want to communicate with her? Is location important to you? What are your views on issues like termination, selective reduction, and the COVID-19 vaccine?
The list can be overwhelming, and many intended parents simply don't know where to start. The good news is that you don't have to do it on your own. Our experienced team at Surrogate Solutions will ask all the important questions and match you with a qualified surrogate who wants the same things. We'll also manage all the details – from the surrogate's medical clearance to legal contracts to scheduling appointments – so you can focus on the journey and building a relationship with your surrogate.
Below are the steps in our matching process.
Step 1: Complete your profile
All intended parents and surrogates complete a detailed profile that includes a variety of questions to help facilitate successful matches. We encourage you to be thoughtful and thorough in your responses so potential surrogates can get to know you through your profile. The matching process goes both ways – you have to choose her, and she has to choose you.
Step 2: Consult with our match expert
Once you have completed your profile, you'll meet with a member of our Education and Matching Team. Our experienced team has been educating and making matches since 2007.
"I meet with every intended parent who enters our program, and we talk about what is most important to them," Lauren, our Matching Director says. "Is it location, personality, religion, etc.? Two deal-breakers for many intended parents [as well as surrogates] are termination views and the COVID-19 vaccine."
Our Matching Director also meets with each surrogate to discuss what she's looking for in a surrogacy journey. Some surrogates have specific preferences regarding the type of family they want to carry for, such as first-time parents, while others are open to helping anyone.
Because there are currently more intended parents than surrogates, our matching director shows surrogates the intended parents' profile first. She begins by matching based on location (for those who want a local match) and the non-negotiable criteria (termination views, selective reduction, and the vaccine).
"Once I've narrowed it down based on these criteria, I can focus on matching personalities," Lauren says. "Because our process is so thorough, I'm able to hand-pick the intended parent profiles that are shown to each surrogate. Sometimes surrogates are given a few profiles to choose from, and other times I just know who the right match will be based on my conversations with both parties."
Once a surrogate chooses intended parents based on their profile, the intended parents will be shown the surrogate's profile. If both parties agree, Lauren will send the surrogate's medical records to the intended parents' physician.
Step 3: Medical approval for screening
"It takes three yeses to make a successful match – the surrogate, the intended parents, and their physician," Lauren explains. Surrogate Solutions sends the surrogate's medical records to the intended parent's reproductive endocrinologist for approval. The amount of time it takes for a surrogate to be approved for screening depends on the fertility clinic and its specific criteria for surrogates. Surrogate Solutions qualifies gestational carriers based on guidance from the American Society of Reproductive Medicine, which states they can be anywhere from 21-45 years old, but some clinics have more stringent guidelines.
Step 4: Attend a match meeting
Once the reproductive endocrinologist approves the surrogate, our Matching Director will coordinate a meeting between the intended parents and the surrogate and her spouse over Zoom. She will facilitate the discussion on topics that need to be covered because it is important for everyone involved to feel comfortable and committed to the process. The goal of the match meeting is for both parties to get to know one another on a more personal level and determine if they truly want to take the journey together.
Step 5: Start building your relationship
If everyone agrees to move forward following the match meeting, the intended parents and surrogate will be assigned to a Care Coordinator who will guide them through their journey and manage all the logistics of the process.
"I advise intended parents and surrogates to only focus on the warm and fuzzies of getting to know each other," Lauren says. "Don't talk about finances or legal issues. If anything makes you uncomfortable, let your coordinator know so she can address it. That's what we're here for – to handle the details so you can concentrate on building a relationship with your surrogate that will hopefully last well beyond the delivery."
Are you an intended parent in need of a surrogate to help you create your happy family? We would be honored to match you with one of our amazing surrogates and guide and support you on your journey to parenthood. Please visit www.surrogatesolutions.net for more information and to register as an intended parent with our program. A member of our team will be in touch to discuss the next steps and answer any questions.

We help Intended Parents Create Happy Families via Egg Donation & Surrogacy  with the help of caring Egg Donors & Surrogates.
Learn More, Surrogacy Costs, Why to use an agency,  How we are different, Finding the right carrier, Getting Started