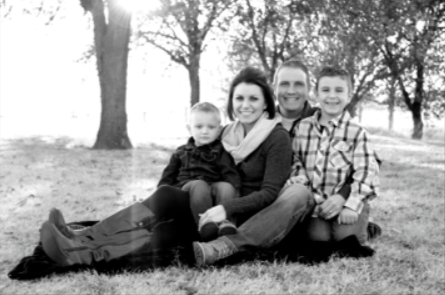 Why surrogacy? For me, I'd had my children, and I was in love with how wonderful my kids were. I then learned how many couples could not have children, and I couldn't imagine people that desired it, not having the gift of family.
I have always enjoyed being pregnant. I have two wonderful boys of my own, and the thought of helping another family was inspiring to me.
I've had the opportunity to be a surrogate two times, once in 2012 to twin boys and once in 2016 to one little boy. Both journeys were different in their own way, but both went smoothly. I researched surrogacy for many months prior to submitting an application. Obviously, research can never prepare you fully for the possibilities of what can happen in a journey, but I was fortunate to be matched with a wonderful couple in 2012 and a wonderful single mom in 2016.
The best part of surrogacy is knowing you did it for the right reasons. Nothing can describe that feeling when you deliver the baby and the parents meet their child for the first time. There are sacrifices a surrogate makes, but they are worth it. My first surrogacy journey moved very quickly, where my second surrogacy took approximately one year to start after I had met the intended mother. Each journey had its own story and perfect timing.
The hardest part of being a surrogate is helping friends, family, and acquaintances understand just exactly what a surrogate is. Many people were confused and thought my husband and I were giving away our own child. It took a few times of explaining that I was like an oven for someone whose "oven" was broken. 😉
When I began to start showing, my husband and I decided to sit our boys down and explain. As is always best with kids, we told them the truth. We told them Mom had a baby in her belly, but that this baby belonged to someone else who wasn't able to carry a baby for themselves.
It was never sad for me to hand over the baby to its parents after carrying the child for nine months. I had no regrets whatsoever. I was happy to be a special part of the lives of the people I was helping. I felt privileged to be able to do this. It was a very different feeling from having my own children. I felt like I was simply returning the baby that they had given me to care for for nine months. I experienced no sense of regret. I had fulfilled my responsibility, and there was satisfaction in that. What a blessing it was, how rewarding it felt, to help give such a beautiful gift to someone. It's amazing how giving something can become a lesson in receiving, and how one can feel proud and humbled at the same time.
My surrogacy journeys have changed the lives of my family in a wonderful way. We now have extended family in Belgium and in Texas. We Skype and text to keep in touch. It's amazing to watch the children grow and know you played a part in them being on this earth.
If you have thought about being a surrogate, please reach out to Surrogate Solutions today. They can educate you on the surrogacy process and give you guidance on your journey.

We help Intended Parents Create Happy Families via Egg Donation & Surrogacy  with the help of caring Egg Donors & Surrogates. 
Why use an agency, Surrogate Requirements, Can I be a Surrogate?, Facts about Surrogacy, Information on surrogacy,  What our agency can offer you , Surrogacy FAQs, Families who need you, Learn more, Apply now.