How do you explain surrogacy to a child? Whether it's to share your child's unique conception story with them or explain to a sibling that you are expecting their little sister or brother with the help of a gestational carrier, these books can help you start the conversation and explain the process in a way your child can understand.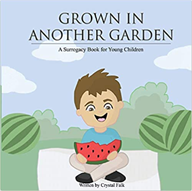 Grown in Another Garden
By Crystal Falk
Grown in Another Garden introduces young children (ages 2-8) to surrogacy. Follow the story of Mikey and his family as he learns about the unique way he was born into a loving family – through the kindness of a surrogate. Join him as he discovers that "sometimes the sweetest and most beautiful creations are grown in another garden." Mikey's story helps to explain why some families choose surrogates to help grow their families and why surrogates choose to help other families this way.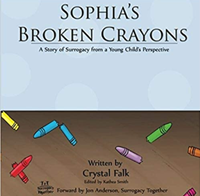 Sofia's Broken Crayons: A Story of Surrogacy from a Young Child's Perspective
By Crystal Falk
Sophia's Broken Crayons is a book for young children (ages 2-6), which tells a story of surrogacy from a young child's perspective. A little girl named Sophia is heartbroken after she discovers all of her crayons are broken. Sophia's friends share their crayons with her as she experiences seeing her parents choose to give the gift of surrogacy to their friends. This book answers questions, such as, why can't everyone have a baby? Why would someone choose a surrogate to help grow their family? Why would someone choose to become a surrogate? Follow the story of Sophia as she learns about sharing and helping friends in need, as well as why moms and dads choose surrogates to help grow their families and why surrogates choose to help other families this way.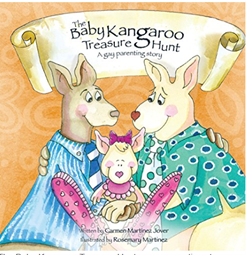 The Baby Kangaroo Treasure Hunt: A gay parenting story
By Carmen Martinez Jover
A sweet children's story of how two kangaroos: Jack and Sam, a gay couple, have their own baby by means of an egg donor and surrogacy. Using kangaroos in the story enables children to easily understand the methods related to their conception in a simple and loving way.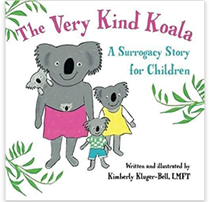 The Very Kind Koala: A Surrogacy Story for Children
By  Kimberly Kluger-Bell
The Very Kind Koala is a charming picture book for young children, which provides an introduction to surrogacy through the simple story of a koala bear and her husband who needed the help of a very kind koala to carry their baby in her pouch. Parents can begin reading this story to children as young as 3 years of age to begin the dialog about their own helpful surrogate.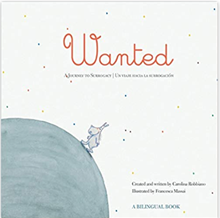 Wanted
By Carolina Robbiano
Two parents are doing everything they can to have a child. While they embark on a whimsical journey to build their family, they dream about their baby, learn that love has no boundaries and make the amazing discovery: there are many ways to have a baby. As they learn to see with new eyes, they begin the biggest adventure of their lives into the world of surrogacy, where they must rely on perseverance, courage and hope to rise above the challenges.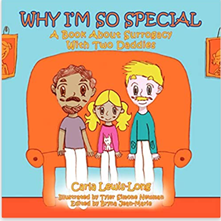 Why I'm so Special: A Book About Surrogacy With Two Daddies
By Carla Lewis-Long
This book tackles a very difficult, complicated subject in a sweet, whimsical way. It is a lighthearted picture book about surrogacy with two daddies. The book is a story that all parents who used a surrogate may share with their young children to let them know just how special they are. This story is ultimately about hope, perseverance and lots of love.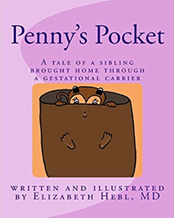 Penny's Pocket: A tale of a sibling brought home through a gestational carrier
By Elizabeth Hebl, MD
A tale of a family of opossums who use a gestational surrogate to bring home their second child. This is a children's book (recommended for ages 8 and younger) to help explain infertility and gestational surrogacy.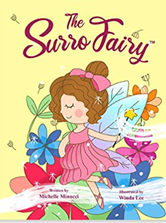 The Surro Fairy
By Michelle Minucci
The Surro Fairy is a tale of two couples who would like to grow a family but need a little help through the use of a surrogate. That's when they each find a Surro Fairy to carry a baby "emby" (embryo) until it grows into a healthy and lovable baby. When the time is right, the Surro Fairies and the parents-to-be reunite for the much awaited birth day.
We help Intended Parents Create Happy Families via Egg Donation & Surrogacy  
with the help of caring Egg Donors & Surrogates.
Learn More, Surrogacy Costs, Why to use an agency,  How we are different,
Finding the right carrier, Getting Started