The reasons women choose to become surrogates are as varied as the women themselves and the families they help to create. Each surrogate has children of her own. They love their children and feel deep empathy for couples who are unable to conceive on their own. Specific reasons surrogates have shared include:
They have experienced struggles of their own and are eager to help. Meg, a surrogate and the mother of twins delivered a set of twins for her intended parents. She shares, "I will never forget watching their parents and new grandparents peer over them in their little isolette and telling my husband, "We made a family!" It was truly an unforgettable feeling and something I will remember for the rest of my life."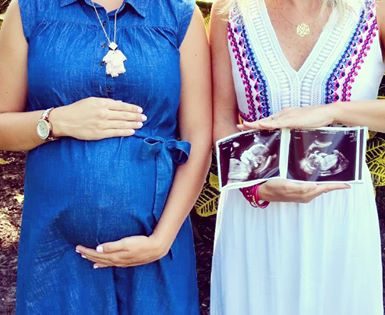 They want to help families who are unable to conceive. Mandy felt truly blessed by the ease with which she could conceive and had experienced relatively easy pregnancies. She empathized with couples who struggled to have families of their own. She says, "My heart would break when I heard story after story of others' heartaches. I knew that someday, somehow, I wanted to help."
They want others to experience the joy that family brings. For Whitney, there is no substitute for family. It hurt her deeply to think that some couples might never be able to have families of their own when she had the ability to help. In her words, "Family is everything to me. My two children are the biggest blessing in my life. It hurt my heart to think of someone desperately wanting a child and not being able to conceive." 
Pregnancy and delivery has previously gone smoothly for them. One gestational surrogate recognized that pregnancy came pretty easily to her and she was willing to help families who have had a tough time conceiving or sustaining a pregnancy. She says, "I have always enjoyed being pregnant. I have two wonderful boys of my own, and the thought of helping another family was inspiring to me. It was a very different feeling from having my own children. I felt like I was simply returning the baby that they had given me to care for nine months."
Surrogacy is a rewarding experience. Experiencing the joy of motherhood made Melissa think about all the people who could not have children of their own, and she wanted to help them experience the joy she felt, too. She shares, "Being a surrogate is the second most rewarding thing I have done so far in my life – second only to being a wife and mother of course!"
Surrogacy can enhance their lives. Surrogates are not paid directly for their services, but they are provided with health insurance for the duration of the pregnancy and they are compensated for the pain and suffering they experience. Their expenses are also paid. This little bit of financial buffer may allow a surrogate to stay home with her other children or complete her education.
One thing all have in common is they are carefully screened both physically and mentally to ensure they are completely prepared for what is to come.
Surrogate Solutions matches gestational surrogates with intended parents looking to grow their families. If you are interested in becoming a surrogate in Texas or beyond or would like to learn more about the gestational surrogacy process in general, please contact Gayle and her caring team of experts at Surrogate Solutions today!

We help Intended Parents Create Happy Families via Egg Donation & Surrogacy  with the help of caring Egg Donors & Surrogates. 
Why use an agency, Surrogate Requirements, Can I be a Surrogate?, Facts about Surrogacy, Information on surrogacy,  What our agency can offer you , Surrogacy FAQs, Families who need you, Learn more, Apply now.