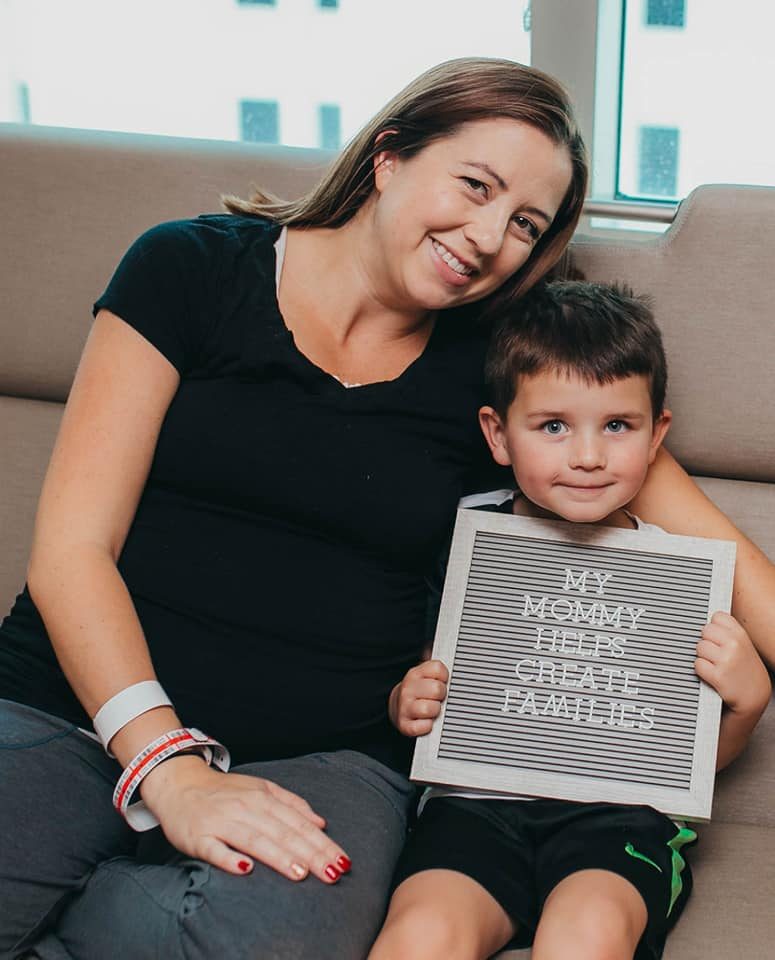 Tell us a little bit about yourself & your life prior to surrogacy
I am a wife and a mother to two sweet, crazy boys ages 2 and 4 (at the time we began this journey). I quit my job as a nurse when my youngest was born to become a full time stay at home mom. My husband and myself play coed softball in our spare time and enjoyed being involved in our church.
What lead you to surrogacy & how did you find out about Surrogate Solutions?
Surrogacy has honestly been on my heart since I was a teenager. My oldest sister struggled to begin a family. She went through IUI, IVF, and multiple other procedures in attempt to become pregnant. They did end up creating a perfect family through adoption. When I was 17, she was diagnosed with ovarian cancer and passed away 4 months later. I would have given anything to help her create the family she had always wanted. Knowing the desire was on my heart, once we were done growing our family, I decided to look into helping another couple create their own family. We found Surrogacy Solutions through another friend who was currently helping a family.
Tell us a little about your journey:
I was very specific about the family I wanted to help and was told it may take a while to find a great match especially because we were no term. We were willing to wait for the right couple though. Amazingly enough, less than two weeks later, I get a phone call from Lauren saying she has found a couple that she believes would be a perfect match and they are willing to meet me immediately! Later that day we hopped on a Skype chat and I met the couple I would carry a child for. Lisset and Jordan were everything I had hoped for. When speaking with them, you could tell how much they wanted this. At one point, Lisset became a bit emotional and right there, I knew this was it for me! Throughout our journey, they made a point to be involved with our children and always checked on me. They trusted me completely and it was so appreciated!
What were your favorite memories from your journey?
After our first appointment with our OB, Lisset and Jordan decided to spend the weekend close to our town and invited my family to spend the day at the hotel pool with them. We must have been in the pool for 6+ hours just talking and playing with the kids. Also, I loved being at her baby shower. It brought me so much joy seeing how excited the entire family was. Grandparents, aunts, uncles, friends, etc. So many people had been patiently waiting to love on this little one.
How was your pregnancy? Were the IPs super involved? Were they able to attend appointments and the birth?
Being involved was one of my requirements! The child was theirs and I didn't want them to miss any of the details! They came to every RE appointment and every MFM appointment. I'm sure they would have came to every OB appointment as well if it wasn't a 4 hour drive and 5 minute appointment. I made sure to ask them if they had any questions for the OB and updated them afterwards. The pregnancy itself was pretty uneventful. At one point, baby was measuring a little bit small, which required for visits with MFM, but eventually we were released as baby had caught up! The weekend I went into labor, IPs happened to be staying on this side of the state for the weekend. We were up through the night together and I slowly began to labor at home.

Unfortunately my hospital only allowed one person to be in the OR for my c-section, so Lisset gowned up and we left the men to wait. The experience was nothing less than amazing.

I watched her see her baby boy for the first time after waiting 10+ years. It was Instant gratification. All of the sickness, back pain, and sleepless nights were worth it!
Many times, Intended Parents ask if there were certain gifts or treats surrogates like, do you have any suggestions?
Depends on your love language I guess. I was given a really sweet necklace at the beginning of the journey. They send edible arrangements for mothers day which was delicious.

At Lisset's baby shower, they gifted me sweet things to use at the hospital but also a gift for my babies ($500 gift card to Disney) because they knew we were taking the boys to Disney a few weeks later. I know it sounds materialistic, but that was the best gift. Not because of the dollar amount, but because it was given to my boys almost as a thank you for sharing their mom. And we are an experience kind of family. Food was delicious though. Food for a pregnant lady is never wrong! I was offered a massage but I never booked it. It felt wrong asking them to pay for more things even though she had offered it up on her own. My suggestion would be if you did want to gift something, just do it and don't ask because chances are your surrogate will be polite and decline.
How is life now that the journey is completed? Do you think you will carry as a surrogate again?
I'm still pumping, so we are still currently in the journey part. I get regular pictures of little man growing and hanging out with his family. We are also planning a trip to their coast to spend the weekend together soon!

As for carrying again, probably not. And that has nothing to do with my journey, but more so the timing in my life. I missed softball and riding roller coasters and jumping on the trampoline with my boys. The baby I carried for my IPs was their very last embryo. I felt like a ticking time bomb because if anything were to happen with their child, they would not have another chance. I was so much more careful with their pregnancy versus any of my own. Mind you, if Lisset and Jordan asked me again, it would be hard to say no, haha! Overall, my family and I are excited that I'm not pregnant and we hope to keep it that way.
What advice would you have for someone going into this journey?
Love the family you are carrying for and remember how hard this is on them. You are carrying the most precious person in the world to them and they are ultimately at your mercy. We want to do this and do this well so everyone has a wonderful memory of the year spent creating a family!

We help Intended Parents Create Happy Families via Egg Donation & Surrogacy  with the help of  caring Egg Donors & Surrogates. 
Why use an agency, Surrogate Requirements, Can I be a Surrogate?, Facts about Surrogacy, Information on surrogacy,  What our agency can offer you , Surrogacy FAQs, Families who need you, Learn more, Apply now.