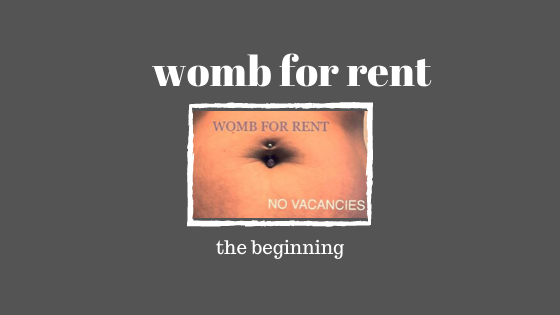 So, I haven't written (other than comedy) since college but here we go…
Its 9:00 am and it's time for my first pill of the day. Right now I'm taking estrogen to thicken my uterine lining for a mock cycle. I am in, what I would consider, the middle stage of becoming a surrogate.
First stage was the application… Talk about nerve racking. I questioned myself the whole time. Are you sure you want to do this? Can you really be pregnant and then give the baby to the parents?  Why would someone pick me to have their baby?! Despite all of my initial questions, I finished the application.
Answer to question #2:  I know I will love this baby so much, but I also know in no way is it mine. This is just ultimate babysitting. I will get the kicks, punches and belly hiccups but this time my prize isn't a baby, it's the look on two people's faces when they see their baby for the first time. Just because I love it doesn't mean it's mine.
Answer to question # 3:  Someone did pick me, or we picked each other. It's called a match and it's what happens shorty after your application is cleared. They could see from my application how much I loved my kids and how much I want to share that experience with someone else. Matching is kind of a weird process. I received a picture of couple with a brief description of who they are and why they need a surrogate. For me, it was an easy choice out of the options they gave me. After we both decided it might be a good match, we did a zoom call. Nothing is more awkward than an interview for your womb! The facilitator from the agency was great, though. She kept the conversation going and helped ask and answer questions that I wouldn't have even thought of… like whether or not the parents would want me on a certain diet, or how much communication I was expecting to have during the pregnancy. After we felt like we were on the same page, we were officially matched.
Onto the psychological evaluation! Turns out I'm not as crazy as my mom thought and I passed! I also got to meet the parents in real life. It's still a little awkward but I'm really looking forward to the interactions to come. I got all of my initial medical screening done in one visit. It didn't take long. They put iodine in there to make sure that everything is where it's supposed to be, then they did an ultrasound to check my lining.  They did some blood work to check for anything that would prohibit me from carrying. Again, I was cleared.
Now here I am, loaded up on estrogen, waiting to see if my body reacts the way they are hoping it does. When all goes well, next will be contracts and then it's transfer time! I'm not sure what the future holds, but hopefully it's a baby.
P.S. Answer to question #1: Are you sure you want to do this? It's an easy yes for me.
Stay Tuned for more of my  journey, as I  just went into contracts with the intended parents.

We help Intended Parents Create Happy Families via Egg Donation & Surrogacy  with the help of 
caring Egg Donors & Surrogates. 
Why use an agency, Surrogate Requirements, Can I be a Surrogate?, Facts about Surrogacy, Information on surrogacy,  What our agency can offer you , Surrogacy FAQs, Families who need you, Learn more, Apply now.