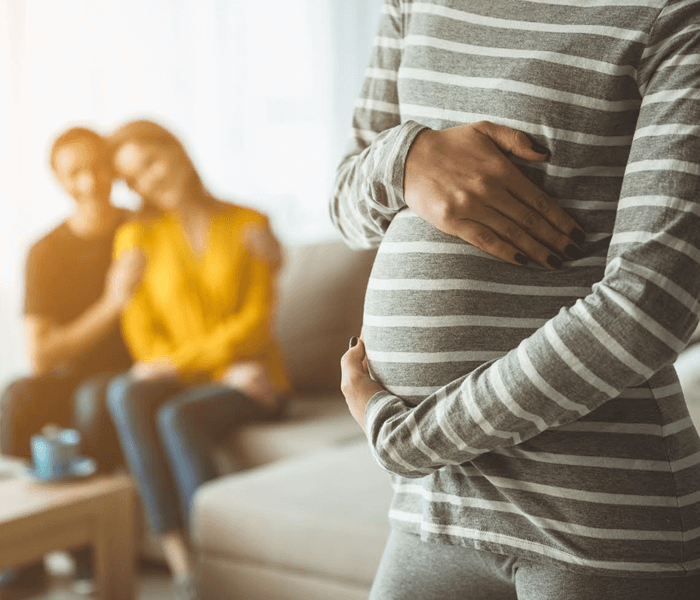 While most surrogacy journeys proceed smoothly, there are risks any woman considering becoming a gestational surrogate should be aware of. It is important to understand those risks to make an informed decision.
Here is an overview of some possible risks. Your agency will be able to tell you more about what you need to know.
Medical
There are risks associated with the IVF process, such as side effects from the fertility medications you must take. This can include physical issues such as bruising at the injection site or allergic reactions. You may also experience emotional symptoms because of the influx of hormones that are used to prepare your body for pregnancy.
There are also risks of bleeding and infection during the implantation process and an increased risk of multiple births and the associated issues.
Physical
Many aspects of a surrogate pregnancy are similar to any other pregnancy such as morning sickness, fatigue, increased urination, swelling, and general aches and pains.
Pregnant women can encounter serious complications including gestational diabetes, eclampsia, placenta previa, and premature delivery.
It's important to monitor your health daily, attend all regularly scheduled medical appointments and notify your physician of any worrisome symptoms or changes.
Psychological
While you will be screened at the beginning of your surrogacy journey, unexpected emotional and psychological changes can occur.
Stay alert for symptoms of anxiety or depression and attend your regular counseling sessions. This is a large commitment you are undertaking, and it's not unusual for it to impact your emotions, but understand what you are feeling is likely quite normal.
Relationships
When you agree to become a surrogate, the journey doesn't just effect you, it can also impact your relationships with family and friends. Children may not understand that the baby will not remain with your family. If you need to curtail your activities during pregnancy, your spouse or significant other may be resentful. Keep an open line of communication with the people you care about. Your surrogacy agency can also give you advice on navigating any difficulties that arise.
Employment
If you develop a medical condition that requires bed rest or if you need to travel overnight to appointments, you may need to take more time off from work than you had expected. This can put your employment at risk, such as being passed over for promotion or even losing your job. Keep your employer informed throughout the process so they can plan for any absences or necessary accommodation.
Like any pregnancy, every surrogacy experience comes with risks and sometimes unanticipated challenges. Discuss any concerns with your surrogacy agency and your Intended Parents. Don't be afraid to ask questions. To learn more about the risks and rewards of surrogacy, schedule a conversation with Gayle or one of her experienced professionals at Surrogate Solutions today!

We help Intended Parents Create Happy Families via Egg Donation & Surrogacy  with the help of caring Egg Donors & Surrogates. 
Why use an agency, Surrogate Requirements, Can I be a Surrogate?, Facts about Surrogacy, Information on surrogacy,  What our agency can offer you , Surrogacy FAQs, Families who need you, Learn more, Apply now.