Ashlee found out about surrogacy from a soccer mom who was currently a surrogate with Surrogate Solutions. During soccer season Ashlee and this surrogate had an opportunity to talk about surrogacy.  Throughout their conversations, the mom encouraged Ashlee to apply.  Helping to create a family was really important to Ashlee and after discussing with it with her husband, they decided to take the next steps.  Ashlee matched with a set of intended parents and delivered her surrogate baby all within a year. The pregnancy went very smoothly and Ashlee delivered a healthy little girl in August.
The family that Ashlee was matched with lives in a nearby town, so they try to get together on a monthly basis. Ashlee enjoys being a part of the new family's life and both families love that their kids will be able to grow up together. Ashlee says that the agency matched her with the perfect couple, and they have had discussions on a sibling journey down the road.
The relationships that emerge through surrogacy are amazing!  More than creating a family, life-long friendships are made. Surrogacy truly is life-changing for everyone involved.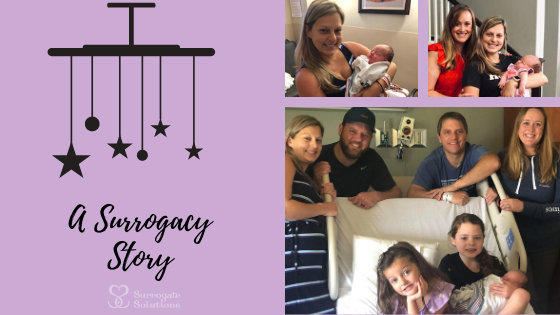 If you have ever considered surrogacy, you should head to our website and apply today. We have a growing list of Intended Parents waiting for selfless surrogates to help them expand their families.
If the current timing isn't ideal, that is okay and we suggest for you to apply anyways. Within the surrogate approval process there are specific steps and paperwork to complete which can take some time. Once you submit your application, we can further discuss what works best for you and your family! As a surrogate you can be the solution and help create a happy family.

We help Intended Parents Create Happy Families via Egg Donation & Surrogacy  with the help of 
caring Egg Donors & Surrogates. 
Why use an agency, Surrogate Requirements, Can I be a Surrogate?, Facts about Surrogacy, Information on surrogacy,  What our agency can offer you , Surrogacy FAQs, Families who need you, Learn more, Apply now.